Managed Print? Is it worth the cost?
Managed print? Is it worth the cost. After all a quick google search and you can get a printer tomorrow, right. It will be relatively cheap and then you just have to buy the toners, easy. But what happens when it goes wrong? Do you buy another one, or try and repair it yourself, perhaps you will call an engineer in? How much will all of this really cost, is there a better way?
In this article we will look at the costs involved and whether it is worth your while looking at this as a solution for your business. Taking two desktop A4 only devices we will compare the difference between a managed service and managing it yourself. What are the differences? What do you get for your money? Do you really print enough to merit a managed print one? 
The first device we will be looking at are the Xerox Workcentre 6515DN available from and online printer reseller. This printer sells for approximately £195 ex VAT. This is a standard one tray toner based device, typical of something you may find on the desktop within a  business. You can find this printer here for more of the specifications.
The second device would be our Toshiba e-Studio 338 CS desktop available from us. This printer is the equivalent printer in our range to compare the xerox to. You can find more about it here.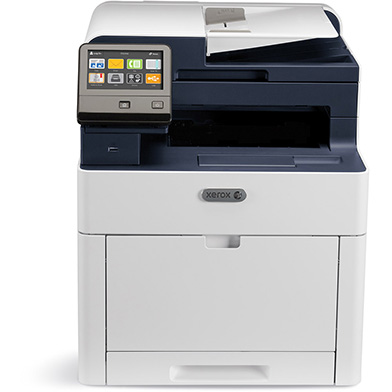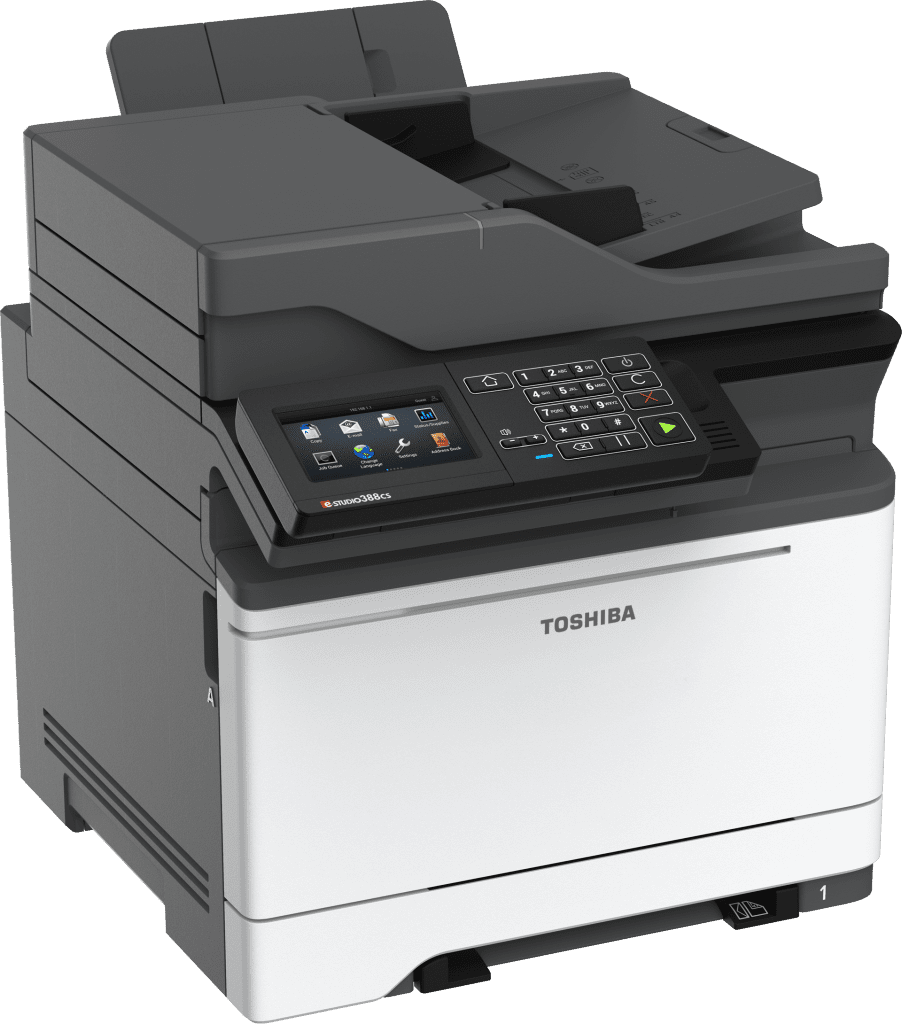 Both printers that are being used in this test.
So with almost any machine there is the initial outlay and there are the running costs. Simply put whether you buy the machine outright or lease, manage the device yourself or get it managed, you pay these costs. The difference between a device available from the high street and from a reseller in the business to business space are the running costs. To put it simply from a purely monetary point of view, more you print on a high page cost the more savings can be made on a device with a low page cost.
Why is this the case? That is simple, it is as the devices become capable of printing higher volumes of paper, the more efficient it becomes. This means the running costs are lower than in a device without the technology to allow this efficiency. There are other factors too, making it easily serviceable for a home user is one. This is why these devices thrive in a high street or online as they don't require the expertise a more efficient device does. 
The downside to this convenience is that the cost per page. For the Xerox this is stated on the website at 11.2p for colour and 1.9p black and white prints. This is solely for the parts, your time, or the time of an engineer should you need one is not included. All in all costs are around double what our equivalent machine would cost to you. Hence it becomes simple economics if you print enough per month to cover our running costs and a lease cost, we can help you.
Are There Ways To Reduce The Running Costs On Our Current Printer?
Yes there are. There are in fact a number of ways to reduce the running costs of your printer. Using compatible toners and parts are one way. Now unless your printer is very old and coming by genuine supplies is becoming difficult, this is not a great option. It will void the warranty on your device and most probably cause you a few issues along the way. 
The reason for this is an awful lot of time is spent in the development of these devices to make sure they work well. By changing something as fundamental as the toner or ink you are making the machine operate differently. It will continue working in the same way with different materials being used therefore producing a different outcome. 
Yes this is done as the manufacturers want to get the ongoing income from you using your device. But it also wants to win repeat business, and they won't get the repeat business on an unreliable printer. As such they don't make it easy for the toner to be replicated identically, to protect their advantage. 
In short this is a gamble, one that might pay off especially if your a low volume user. However, chances are it will reduce the life of your device and certainly impact its reliability. This will also make the self servicing nature of the printer harder to achieve.
Use the calculator below to see how much cheaper a device on a managed print service can be!
Want to find out more about how we can help you reduce the burden of business printing
On just 2 reams of paper per month, you could save enough money to get a new device and have change in your pocket. Why not drop us an email, and we will get one of our experts to help you.
If this Calculator doesn't reflect your cost per page and you want to find out more. Why not visit our Managed Print Service Cost Calculator. Click Here to find out more.
What Is a Managed Print Service?
In simple terms it is a service that completely looks after your business printing needs. As a general rule most managed print service will automatically send you toner ready for when it needs to be changed. We will provide parts and trained technicians to repair your printer when it goes wrong. Our billing will spread the cost into a monthly or quarterly payment plan that is based around how much you use your device. Most suppliers will get automatic meter readings so you only pay for what you use. 
There is so much that a managed print service covers and an large amount of time to be saved. In a blog post from cartridge world in the US they show just how much time can be wasted on a printer. All of this adds to the cost of running your own device.
Related: Cartridge World Blog
At Datum we take the managed print service to another level of automation, we predict and prevent service call outs. We study data from your device to prevent further wasted time. This is something that is not standard in the office print industry and provides users with a much more complete service. You can find out more about our Fix Before Failure service here.
Why do I need to speak to someone about which printer is best?
This comes down to the fact that there are a huge number of different free and paid for optional extras to configure your device. It is essentially a bespoke service for you. This will impact on the copy cost and the sale price of the printer. In order to find the printer that matches your needs and requirements requires best, you need to speak to an expert. 
There is no catch with this service, yes the expert is trying to win your business away from high street or online retailers. Yes the payment is monthly rather that ad hoc, but you still only pay for what you use and not a penny more.
So what is our, and other companies, experts doing when they come to gather information about your requirements? They are essentially seeing where you fall on the graph fig.1. This determines the best printer for you based on the number of prints you produce. 
The lowest line at any given point on the graph is the most cost effective machine to print on. What this graph shows is the the relationship between running costs, print volumes, sales price and how to determine the best device for each customer. 
The blue line will represent a machine bought from the high street or online retailers. The orange, grey and yellow the more efficient machines from resellers such as Datum. You can see due to the high running our devices quickly become cheaper.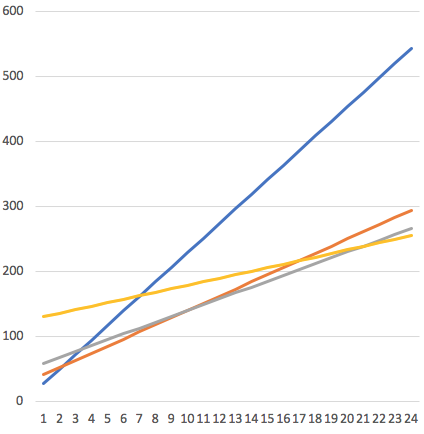 Fig.1 
Figures not representative to actual working conditions, they have been used for concept purposes only.
This depends on how much printing you do and amount of time you spend faffing with your printers. The calculators and graphs shown in this article will give you an idea of what your printing costs could look like. But perhaps a managed service may not fit with your business? You may spend a large amount of time out of the office or print relatively little in which case a high street option or a machine bought and managed by yourself could be best.
If you are looking at your printing costs or perhaps you have to spend a fair amount on ink or toner regularly, it could be worth seeing what is on the market. There isn't a catch just the ability to provide more efficient and therefore cheaper machine in some cases. After all, we offer free no obligation consultations, so if your looking for the future or simply weighing up your options, there is nothing to lose.
If your machine looks similar to either of the two above and you manage your printers yourself you could save yourself time and money. Simply by taking advantage of machines designed and built specifically for your use case.

Looking to reduce your costs?
Reducing your cost of printing can be easy. By looking at the entire market, rather than just whats on the high street or online, you could drive down your costs.

Spending too much time on you printer?
Managed print services can reduce the time and effort that you spend on your office printer. Whether that is paper jams, ordering toner or connecting the machine to your network. We can do the lot for you.

Don't spend a penny more than you have to!
Because our service is based on what you print, rather than a monthly subscription. You never have to pay a penny more than you need to.